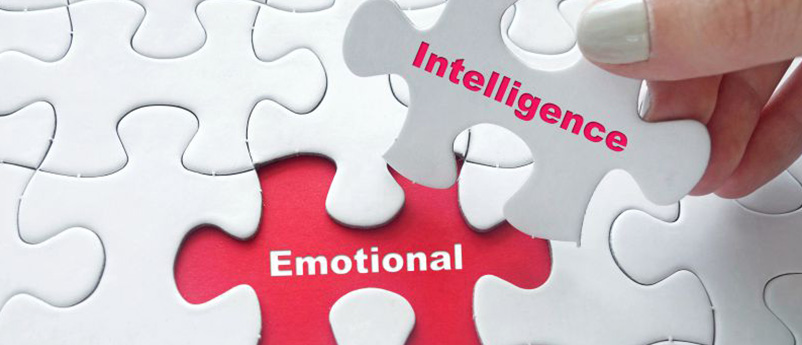 What is Emotional Intelligence?
IQ (Intelligence Quotient) and EQ (Emotional Intelligence Quotient) are acronyms that are often quoted in the literature related to psychology and management. Let's see them one by one.
IQ – Intelligence quotient – formulated by psychologists like Alfred Binet and later conceptualized by psychologist William Stern, includes qualities like analytical skills, logical reasoning, ability to relate multiple things, and ability to store and retrieve information. For a long time, IQ was considered as the true measure of one's potential and unquestioned standard of one's excellence in life and work. It was also considered to be set in our genes, and hard to develop or improve.
Then came EQ – Emotional Intelligence. Conceptualized by psychologists like Michael Beldoch, formulated by John Mayer & Peter Salovey, and later popularized by psychologist Daniel Goleman, EQ includes four key competencies which then have further sub-competencies:
Emotional awareness
Self-assessment
Self-confidence
Conscientiousness
Self-control
Trustworthiness
Commitment
Adaptability
Empathy
Attunement
Empathic accuracy
Social cognition
Synchrony
Self-presentation
Influence
Concern
Source: Daniel Goleman's books – Emotional Intelligence and Working with Emotional Intelligence
How are 'Emotional Intelligence' and 'Social Intelligence' related?
Goleman had proposed the aforementioned model of Emotional Intelligence in his seminal book on the subject in 1995. In later development, Goleman wrote his another famous book Social Intelligence: The New Science of Social Relationships in 2006, in which he separated last two emotional-intelligence competencies – social-awareness and relationship-management – into a separate concept Social Intelligence.
How do we, at Socialigence, see Social & Emotional Intelligence?
We, at Socialigence, define 'Social & Emotional Intelligence' as the "Ability to adapt one's behavior on the basis of awareness of one's own emotions and attunement with others' emotions".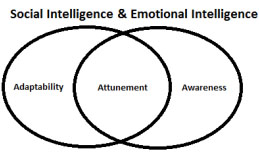 As one of the Top-10 Future Work Skills according to The Institute for the Future (IFTF), it is the keystone competence for self-management and interpersonal effectiveness across all the industries, functional areas and levels of hierarchy.
Can Social & Emotional Intelligence be developed, and how is it beneficial?
Over the years, numerous studies have found that Social & Emotional intelligence can be developed and is beneficial:
In 2002, UNESCO began a worldwide initiative to promote Social and Emotional Intelligence, sending a statement of ten basic principles for implementing SEI to the ministries of education in 140 countries.
In meta-analysis of 668 evaluation studies of SEI programs for children from preschoolers through high school by Roger Weissberg, it was found that SEI programs produced a strong benefit in academic accomplishment.
In participating schools of SEI training, up to 50 percent of children showed improved achievement scores and up to 38 percent improved their grade-point averages.
SEI programs also made schools safer: incidents of misbehavior dropped by an average of 28 percent; suspensions by 44 percent; and other disciplinary actions by 27 percent.
As a result of SEI programs, attendance rates rose, while 63 percent of students demonstrated significantly more positive behavior.
The Harvard Business Review hailed emotional intelligence as "a ground-breaking, paradigm-shattering idea," one of the most influential business ideas of the decade.
The Rutgers University-based Consortium for Research on Emotional Intelligence in Organizations (CREIO), founded in 1996, has been successfully collaborating with organizations to develop SEI competencies.
A study (Hulsheger et al., 2012) found that two weeks of Mindfulness & SEI training increased well-being, decreased emotional exhaustion at work, and even increased job satisfaction.
Mindfulness & SEI has been found to increase brain cortex thickness and activation in regions associated with emotional awareness and emotion management (Tang et al., 2015)
Training in the emotional intelligence skill of compassion has been shown to reduce interpersonal stress and improve relationships (Singer 2016; Kok et al. 2013).
In a survey conducted by the Institute of Mindful Leadership, 93% of leaders reported that mindfulness training helped them create space for innovation, and nearly 70% said it helped them to think strategically (Institute for Mindful Leadership Survey).
For next-generation leadership-development, Johnson & Johnson looked at its 358 midcareer executives across the globe. The group reflected a global spread, with 45% women in it. They identified about a half of this group as 'high potentials'. When all of these 358 were evaluated on various competencies, the high-potentials were found to exhibit all 20 of the ESI (Emotional & Social Intelligence) competencies while the executives in the comparison group possessed only a few of them
Researcher Lyle Spencer studied managers of a $2 billion global division of Siemens with 400 branches in 56 countries. When he compared the competencies of the star performers and average performers (Star performers were the Top 10% performers with average annual sales of $29.8 million against $17 million annual sales of average performers), he found that the differentiators were the four competencies of ESI (Emotional and Social Intelligence) and not a single technical or cognitive competency
When average-performing group of managers at one of Siemen's global division were trained on ESI (Emotional & Social Intelligence) competencies, they added an additional $ 1.5 million in profit, double that of a comparison group which had no training
Researchers Goleman, Boyatzis & McKee analyzed years' data of from close to 500 competence models from global companies including the likes of IBM, Lucent, PepsiCo, British Airways, and academic institutions and government agencies. To determine which capabilities drove outstanding performance in these organizations, they grouped capabilities into 3 categories: 1) Technical 2) Cognitive 3) ESI (Emotional & Social Intelligence). After analyzing all the data, they found that ESI-based competencies played an increasingly important role at higher levels of organizations, where differences in technical skills are of negligible importance. Moreover, about 85% of the difference of star-performers' profiles from average-performers was attributable to ESI-related factors
In a study of 32 stores in a US retail chain, researchers George & Bettenhausen found that outlets with positive salespeople showed the best sales results. And more importantly, it was found that it was the store manager who created the emotional climate that drove salespeople's moods
In a study of 62 CEOs from 'Fortune-500 & leading companies', researchers Barsade & Ward found that lesser their 'personality-clashes, conflicts and friction' with their top management teams, better the company's business results
A study of CEOs of health services companies by Eric Harter found that self-awareness of leadership abilities was greatest for CEOs of the best-performing companies and poorest for CEOs of the worst performers
At Weatherhead School of Management at Case Western Reserve University, MBA students were asked to assess their ESI competencies, choose which competencies they wish to strengthen, and be guided by and individualized learning plan for the same. The gains lasted for years for them. Up to two years after MBA, they still showed 47% improvement on self-awareness competencies and 75% for competencies such as empathy and team leadership
Researcher Lyle Spencer found that for every 1 percent improvement in the service climate, there's a 2 percent increase in company's revenue.
Researchers Boyatzis, Goleman & Rhee did an analysis of the partners' contributions to the profits of a large accounting firm. If the partner had strengths in self-management, he or she added 78% more incremental profit than did partners without those strengths. Likewise, the added profits for partners with strengths in social skills were 110% greater, and those with strengths in the self-management added a 390% incremental profit – in this case, $1,465,000 more per year. By contrast, significant strengths in analytical reasoning abilities added just 50% more profit. Thus purely cognitive abilities help, but the ESI competencies help far more