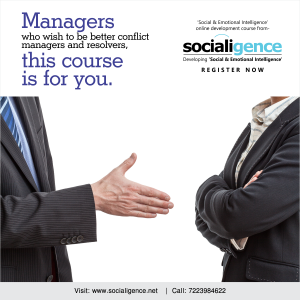 Workplace is a whole world in itself. People coming from diverse backgrounds, with different experiences, having distinct personalities; all stacked together in a notional hierarchy; reacting towards ever-increasing demands of an ever-changing marketplace. Well! In such a setting, conflicts are inevitable.
Such conflicts, though understandable, can make workplace less conducive & more stressful, taking a toll on individual's intellectual resources and depriving the organization of the benefits that come with synergy. As a result, the productivity gets harmed and the culture gets ruined. Sample this:
Two CRM executives do not see eye to eye with each other and do not miss a single chance to run each other down in front of others. So, their manager can't keep them in the same team…
A person from production department had used harsh words in a feedback mail for a marketing department's executive. Now, in cross-functional meetings, there is always an underlying tension between the two that is harming a product development initiative…
A deputy manager has never liked a particular executive because her style of communication is too straightforward to be termed polite…
If you see, most of the conflicts are interpersonal in nature. Their roots lie in attitude, behavior or conduct of a person.To address or solve them, what a manager requires is 'Social & Emotional Intelligence'. We, at Socialigence, define itasthe "Ability to adapt one's behavior on the basis of awareness of one's own emotions and attunement with others' emotions".
By applying this skill, a manager can regulate her own emotions, observe others' nonverbal behavior to understand their emotions, and use this knowledge for facilitating introspection, aiding retrospection, establishing rapport, aligning expectations, detecting deception, navigating discussion, and reaching win-win proposition. Moreover, there are some key points for resolving conflicts:
Collect all the facts before commenting
Listen to all sides before concluding
Avoid labeling people's behavior
Maintain composure irrespective of what happens
Encourage constructive confrontation
Respect people's right to disagree
Do not be in a haste to solve the matter.
Dr. Sandeep Atre (Founder-Director, Socialigence)